"MEISTeR" Remote Control Robot Completes Demonstration Testing at Fukushima Daiichi Nuclear Power Station
Mar.25,2014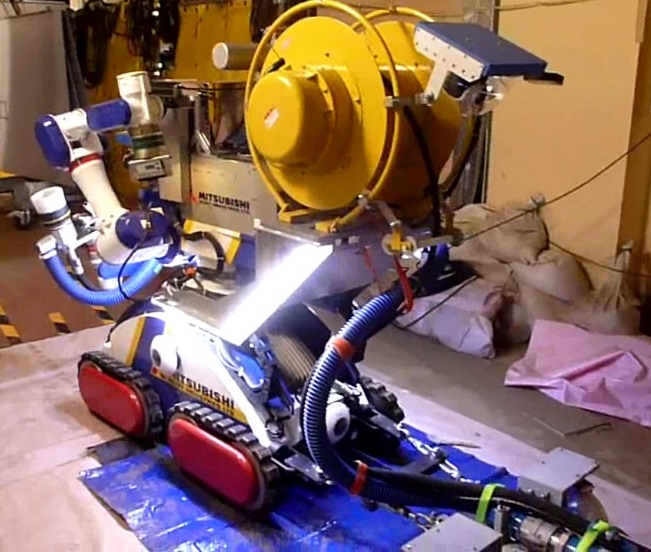 The "MHI-MEISTeR", a remotely controlled robot developed by Mitsubishi Heavy Industries, Ltd. (MHI) funded by the Japanese Ministry of Economy, Trade and Industry (METI) has completed demonstration testing, and performed decontamination work and concrete core sampling tasks at the Fukushima Daiichi Nuclear Power Station (NPS).
The MEISTeR was developed for decontamination of the Fukushima Daiichi NPS as part of a project funded by the METI in FY 2013.  After having verifying its remote controllability at the Fukushima Daini NPS, technical problems were identified and improved.  In early February, the demonstration testing was performed in Unit 1 at the Fukushima Daiichi NPS.
Since the high performance of MEISTeR was confirmed, decontamination work and concrete core sampling are also scheduled for Unit 2.
※News release by MHI
https://www.mhi.co.jp/news/story/1402205498.html (Japanese)
http://www.mhi-global.com/news/story/1402201775.html (English)
※News release about demonstration testing at Fukushima Daiichi NPS by TEPCO
http://www.tepco.co.jp/nu/fukushima-np/handouts/2014/images/handouts_140127_06-j.pdf (Japanese)
※Video clip of "MHI-MEISTeR" is available from the link below (TEPCO's website)
http://photo.tepco.co.jp/date/2014/201402-j/140207_01j.html (Japanese)