Full-scale Testing of Technology for Repairing PCV Leakage Points
Full-scale Testing of Strengthening Technology for Suppression Chamber (S/C) Support Columns [IRID/Hitachi GE Nuclear Energy] (November 29, 2016)
Nov.29,2016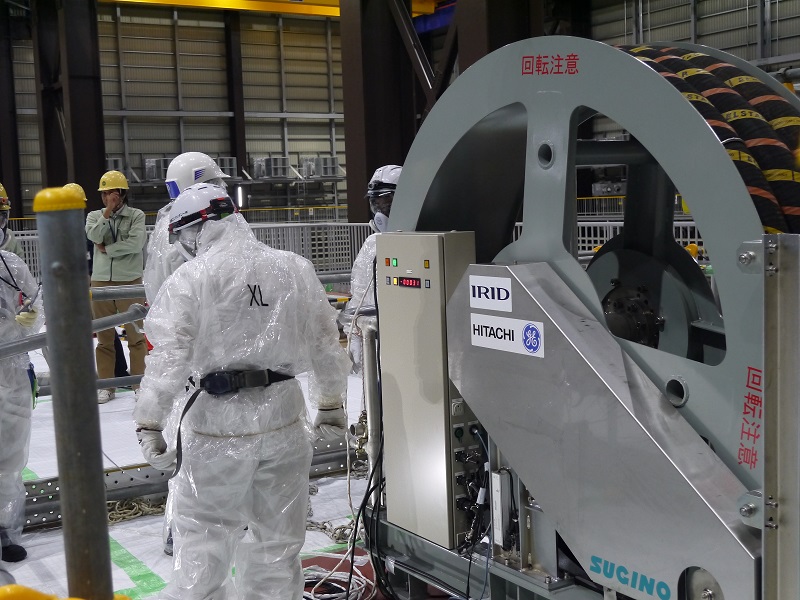 IRID is engaged in ongoing development of technology for repairing leakage points in the Primary Containment Vessel (PCV) under a project sponsored by the Ministry of Economy, Trade and Industry (METI) for the FY2016-2017 period towards the decommissioning of the Fukushima Daiichi Nuclear Power Station.
As part of this project, IRID commenced testing using "a full-scale mock-up test device" to establish technology for repairing water leakage points in the lower part of the PCV.
The first workability verification test for strengthening Suppression Chamber (S/C) support columns was conducted in November 2016.
*This testing device simulates vent pipes, the S/C and torus room wall in the lower part of the Fukushima Daiichi Unit 2 PCV. The testing device is of a full-scale size, but represents a 1/8 portion of the circular S/C.
●Testing overview [Technology for strengthening S/C support columns]
R&D for water stoppage technology through injecting filing inside the S/C is being undertaken in order to retrieve fuel debris. The total weight of the S/C is expected to increase due to this injecting filling. IRID is therefore making efforts to develop technology for seismic strengthening of S/C support columns through injecting reinforcement materials in the lower part of the S/C.
●Full-scale tests to be performed
・Vent pipes water stoppage technology
・Repair technology to stop water leakage through injecting filling inside the S/C
・Strengthening technology for the S/C support columns
Workability verification and pouring (concrete) testing will be conducted for each technology.
A series of full-scale tests for development of construction methods are planned for completion by the end of the next fiscal year.
*We expect to provide updates on the status of these tests accordingly when the test schedule is confirmed.
[Attachment: Workability verification test for strengthening S/C support columns as a full-scale mock-up test]
https://irid.or.jp/wp-content/uploads/2016/12/20161201.pdf

| | |
| --- | --- |
| | |
| Pouring device | Lowering hose operation |
| | |
| Operation to lower a hose while avoiding objects, viewing the front monitor 2. | Operation to lower a hose while avoiding objects, viewing the front monitor: 3. |
| | |
| Monitoring screen in remote operation room | Mixer agitator pressure pump to inject reinforcement materials through a hose |
Inquiries regarding this topic may be directed to IRID viaE-mail