Boat-type Submersible Access Devices to Investigate Interiors of PCV at Fukushima Daiichi Nuclear Power Station[Developed by Hitachi GE Nuclear Energy, Ltd. in 2019]
Oct.25,2019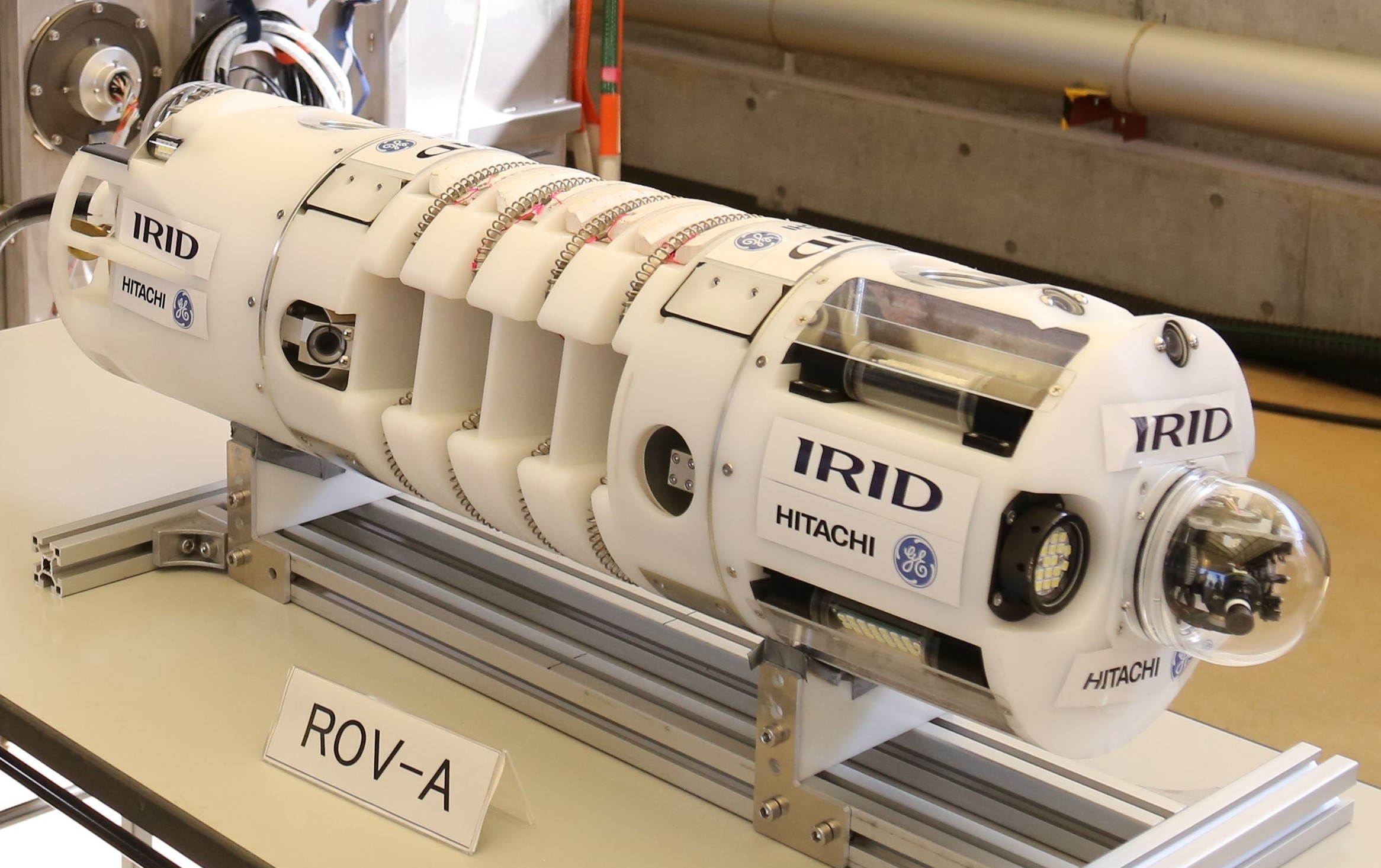 For the decommissioning of the Fukushima Daiichi Nuclear Power Station (NPS), owned by the Tokyo Electric Power Company Holdings, Inc. (TEPCO), the International Research Institute for Nuclear Decommissioning (IRID) has developed the boat-type submersible access devices and small-type remotely operated vehicles (ROVs) to investigate the details of the Unit 1 primary containment vessel (PCV) at the Fukushima Daiichi NPS. Here, IRID introduces line-up of the devices.
These devices are the results of a subsidy project on decommissioning and contaminated water management in the fiscal year of 2017 of the Development of Technologies for Detailed Investigation inside PCV (onsite-demonstration of detailed investigation technologies considering management of deposits), which is granted by the Agency of Natural Resources and Energy (ANRE) and the Ministry of Economy, Trade and Industry (METI).
(Investigation devices)
1.The ROV for installation of a guide ring (ROV-A)
It is designed to install a cable guide (guide ring) with a wide range of movement outside the pedestal for measuring the gamma-ray dose on the basement floor.
2.The ROV for visual observation (ROV-A2)
It investigates damaged conditions of a wide-range basement floor and deposits, as well as the situation inside the pedestal.
3.The ROV for 3D mapping of deposits (ROV-B)
It obtains the 3D-map (point-group data) for a wide range of surfaces on the deposits outside the pedestal.
4.The ROV for measurement of the deposit thickness (ROV-C)
It measures the deposit thickness outside the pedestal and confirms the situation under the deposits.
5.The ROV for fuel debris detection (ROV-D)
It detects the fuel components contained in the deposits.
6.The ROV for sampling of deposits (ROV-E)
It collects a sample from the surface of the deposits.
〇Driving force and dimensions of the devices
・  ROV-A, ROV-B, ROV-C, ROV-D and ROV-E
Driving force: 25 N
Dimensions: 25 cm diameter x approximately 110 cm length
・   ROV-A2
Driving force: 50 N
Dimensions: 20 cm x 45 cm x 17.2 cm height
■Line-up of the devices (photos)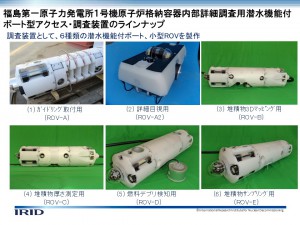 ■(Reference) Videos
 The submersible-type investigation robot for Unit 1 at the   Fukushima Daiichi NPS
The ROV for installation of a guide ring (ROV-A)
The ROV for visual observation (ROV-A2)
 (Click the below link to jump to the YouTube site.)