To investigate the position of fuel in reactor using cosmic ray muon, a preparatory test for designing a measuring system was conducted at Fukushima Daiichi Nuclear Power Station.
Aug.20,2014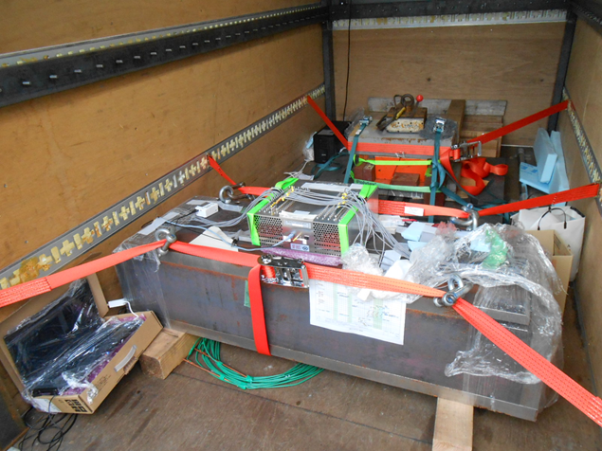 IRID conducted a preparatory test for designing a measuring system using "muon transmission method" at Fukushima Daiichi Nuclear Power Station (NPS) and reports the result herein.
It is believed that fuel has melted down in Units 1 to 3 at Fukushima Daiichi NPS.
The most important step for decommissioning is to take out this melted fuel. To do so, investigate the shape of melted fuel is indispensable. However, radiation dose is still high at the site and it makes survey activities extremely difficult.
Against this background, technology to see through nuclear reactors by using muon coming from outer space is highly expected. The basic principle is the same as X-ray. After muon has gone through a high-density substance, the position and shape of melted fuel can be grasped by analyzing the number of particles and the tracks of the muon.
This muon transmission method has been used to analyze the internal structures of volcanoes (such as magma and caves) so far, and a permeation test conducted in Unit 2 at Tokai Power Station of the Japan Atomic Power Company was led to favorable results.
The above mentioned preparatory test was conducted for three days, from July 25 to 27, 2014.
Specifically, a muon measuring instrument was placed in ion boxes each having a different shielding thickness (5 cm, 10 cm, or 15 cm) to confirm how much thickness is required to maintain the effect of the muon transmission method without being affected by the surrounding gamma ray.
As a result, it was confirmed that the influences of the gamma ray notably appeared at the shielding thickness of 5 cm but that the performance would have not affected if the thickness were 10 cm or more.
Based on the result obtained from this test, it is planned to produce a shield for actual use and execute measurements by the muon transmission method in Unit 1 of Fukushima Daiichi NPS in the second half of FY2014. Analyzing data measured in this way, the position and quantity of fuel debris remaining in the nuclear reactor will be assessed.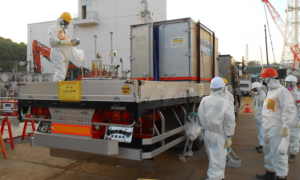 Test conducted in a container installed on the bed of a truck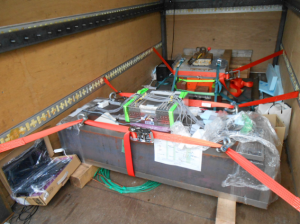 Set of test equipment (measuring instrument placed in the ion box in the
front)
Inquiries regarding this topic may be directed to IRID via E-mail