Investigation Inside PCV / Development of a Device to Investigate inside PCV of Fukushima Daiichi NPS Unit 2 [Development by Toshiba Energy Systems & Solutions Corporation] (December 22, 2017)
Dec.22,2017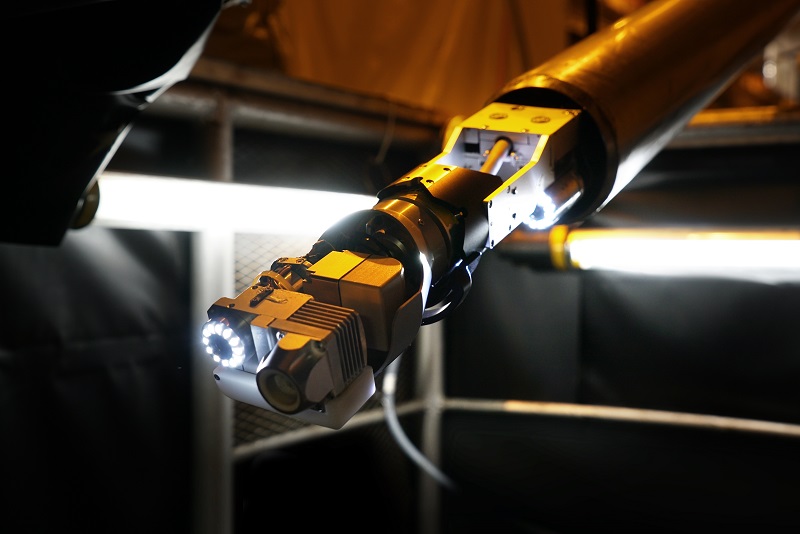 As part of decommissioning activities for the Fukushima Daiichi Nuclear Power Station (NPS), operated by Tokyo Electric Power Co. (TEPCO), an investigation device was developed to survey the internal conditions of the pedestal in the primary containment vessel (PCV) of Fukushima Daiichi NPS Unit 2. The investigation device was released to the media on December 22, 2017.
(Key features)
The investigation device is equipped with a guide pipe, a 2-kg pan-tilt camera, an omnidirectional camera, and a cable feeding mechanism, which is designed with a telescopic pipe so that it can be extended by approximately 5 m.
The device is downsized to enter a hole of approximately 12 cm that is designed for inserting the device from X-6 penetration for investigating the inside of the PCV in February 2017.
The pan-tilt camera enables capturing images in a 120° vertical direction and 360° horizontal direction remotely. In addition, the device is equipped with a mechanism to adjust the distance between the camera and lights to ensure visibility in dark conditions inside the PCV where visibility is poor because of steam.
(This investigation)
An investigation inside the Unit 2 PCV located below the platform will be conducted using the developed device.
■Overview of the investigation inside the PCV
*Please visit and see an overview of the Unit 2 PCV investigation robot.
https://irid.or.jp/wp-content/uploads/2017/12/201712221.pdf
*Please visit and see videos of the robot investigating the inside of the Unit 2 PCV.
(Link to YouTube.)
【photo】
| | |
| --- | --- |
| | |
| A camera and a cable feeding mechanism | A telescopic |
| | |
| The pan-tilt-camera-tipped 1 | The pan-tilt-camera-tipped 2 |
| | |
| The pan-tilt-camera-tipped 3 | A tip of an investigation device inside the PCV |
Inquiries regarding this topic may be directed to IRID viaE-mail