Improved Robot for Investigation inside the Primary Containment Vessel (Scorpion Robot) [Developed by TOSHIBA CORPORATION] (Feb. 18, 2016)
Feb.18,2016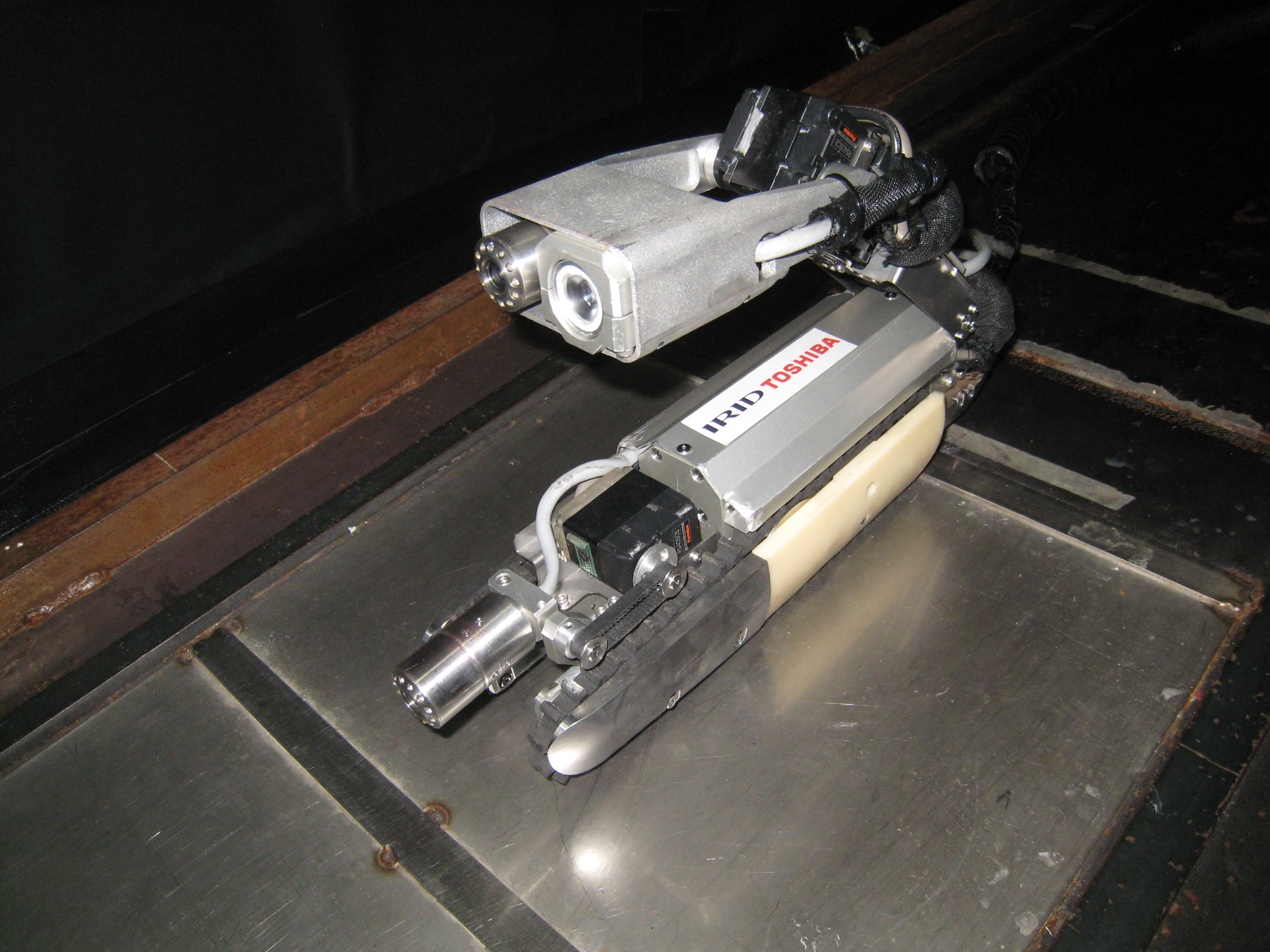 IRID plans to deploy an improved remotely-operated robot (scorpion robot) to investigate inside the Primary Containment Vessel (PCV) at the Fukushima Daiichi Nuclear Power Station Unit2 as soon as it completes on-site preparations, including investigation and decontamination work around a penetration that is to be used as an insertion opening through which the investigation robot will be inserted.
The robot introduced in this article is an improved model in which IRID member TOSHIBA CORPORATION reflects results obtained through repeated mock-up tests and operation training of the previous model.
The robot has been continuously undergoing improvements such as a functional addition that enables the robot to pick itself up when it falls down. IRID will further collect knowledge and improve the robot until the investigation actually starts.
The main improvements are as follows.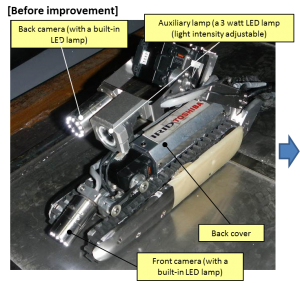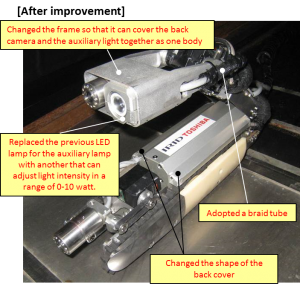 * No major change from the previous model (before improvement) in appearance, size, etc.
* Click here to enlarge the images.

No.
The contents of improvement
Effect of the improvement
1
Changed the frame shape of the back camera section
Reduced risks that interference objects are caught in uneven surfaces between the back camera and the light sections, by smoothing the unevenness
2
Adopted a braided tube
Reduced risks that interference objects etc. are caught in cables, by bundling and inserting multiple cables into a braided tube
3
Changed the shape of the back cover (Extended the width of the cover)
Reduced risks that front camera and motor cables are caught in interference objects etc.
4
Adopted a LED light that can adjust light intensity in a range of 0-10 watt, as an auxiliary light *1
The replacement of the previous LED lamp with another enables the auxiliary lamp to illuminate longer distance, depending on circumstances.
* 1 The power consumption of a bulb used depends on the environment inside the Primary Containment Vessel
[Overview of the robot]
・Movement: crawler type
・ Investigation: with a camera, dosimeter and thermometer
・Size: [In going through a guide pipe]: approx. 590 x 90 x 90 mm (H x W x H)
[In moving on the grating or CRD rail]: approx. 1,260 x 90 x 220 mm (H x W x H)
・ Weight: approx. 5 kg
[Images of the robot]
| | |
| --- | --- |
| | |
| In going through a guide pipe | In moving on the grating or CRD rail |
Inquiries regarding this topic may be directed to IRID via E-mail