Development of Repair Technology for Water Leakage Sections in PCV Testing Concrete Injection Technology for Water Leak Stoppage Treatment inside Suppression Chamber Using Full-Scale Mock-up Facility [Led by TOSHIBA]. (October 15, 2016)
Oct.15,2016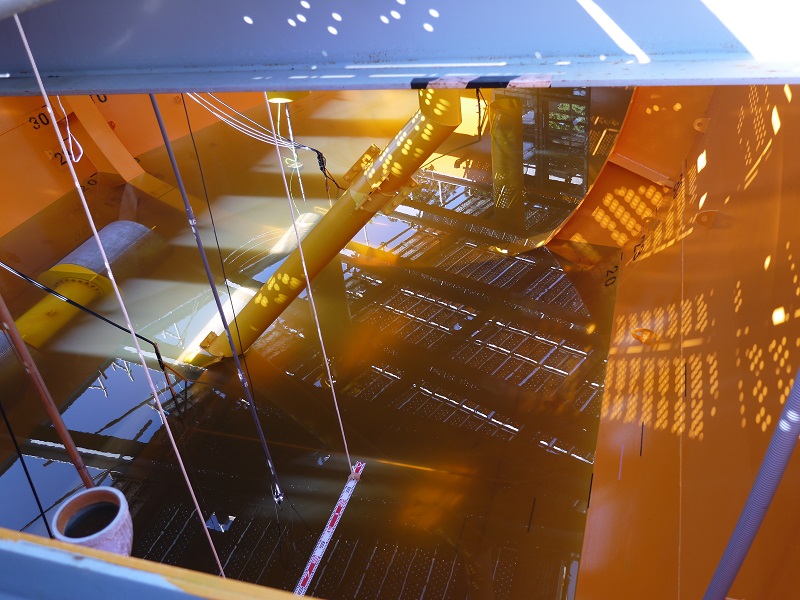 IRID is advancing the development of repair technology for water leakage sections in the Primary Containment Vessel (PCV) under a project led by Ministry of Economy, Trade and Industry (METI) in FY 2016-FY 2017 towards the decommissioning of the Fukushima Daiichi Nuclear Power Station (NPS). As a part of this project, a method of injecting concrete to repair water leakage points inside suppression chamber (S/C), a structure that lies at the lower part of the PCV, is currently being examined.
To test this method, concrete was injected into a full-scale mock-up of the S/C.
・ Testing Overview
Based on the actual structure found in Fukushima Daiichi NPS Unit 2, internal components such as a full-scale quencher and strainer were placed in a water tank that models the lower half of a circler shape placed at 45 degrees. In addition, holes were created to simulate actual damage conditions. Underwater inseparable concrete was injected into this facility to confirm long-distance concrete fluidity, concrete behavior that exceeds stiffening rings, water leak blockage conditions inside components, and if holes in the structure had been repaired.
・ Test Location
Hazama Ando Corporation, Technical Research Institute, (Tsukuba city, Ibaraki Prefecture)
・ Test Date of Concrete Placing
Saturday, October 15, 2016
・ Test Information
– Placing concrete in mock-up test facility (Approx. 9:30 – 16:30)
<Water stoppage test on 50mm damaged holes>
– Performance verification of S/C damaged holes for water leak blockage and coarse aggregate size that can stop water leakage.
(50mm damaged holes used in testing; it is assumed 20mm holes exist in actual conditions)
<Water stoppage test for quencher and strainer>
– Verification of material behavior exceeding stiffening rings (T-flange); performance verification of water leak blockage for strainer and S/C damaged parts due to material flow.
– Further testing of water pressure resistance required to verify water leak blockage capability performed 28 days after concrete injection.
[Future Developments]
Based on the test results, IRID will perform similar water leak blockage tests through injecting filling inside S/C, using the full scale mock-up facility at Naraha Remote Technology Development Center.
*We expect to post an update accordingly when the test details are confirmed.
<Attachment 1: Full scale S/C testing conditions, overview >
https://irid.or.jp/wp-content/uploads/2016/10/20161018_001.pdf


<Attachment 2: Time series events in the progression of concrete placing, diagram>
https://irid.or.jp/wp-content/uploads/2016/10/20161018_002.pdf

[On site photographs]
| | |
| --- | --- |
| | |
| Inside S/C (before testing) | Concrete pumping vehicle that can inject concrete at 30㎥ / hour |
| | |
| Injecting concrete | Injecting water in S/C (75 L / min.) |
| | |
| Strainers before starting test | Submerged strainers |
| | |
| Quencher | Down-comer |
| | |
| Measuring concrete precipitation every 10 min. | Transporting from concrete agitator vehicle to pumping vehicle |
| | |
| Confirming water leakage volume (Conditions before water leak blockage) | Confirming water leakage volume for damaged area (Conditions after water leak blockage) |
Inquiries regarding this topic may be directed to IRID via E-mail